In it's quest for excellence through innovation, Meyers has always known how to seduce its affluent and most demanding clients, with very exclusive timepieces, to suit their desire for originality, in class and elegance.  Combining chic designs with Swiss precision, Meyers has come to represent all that is elegant, bold and creative in watch craftsmanship.  Our watches are made for the fashion-conscious watch connoisseur with demanding tastes.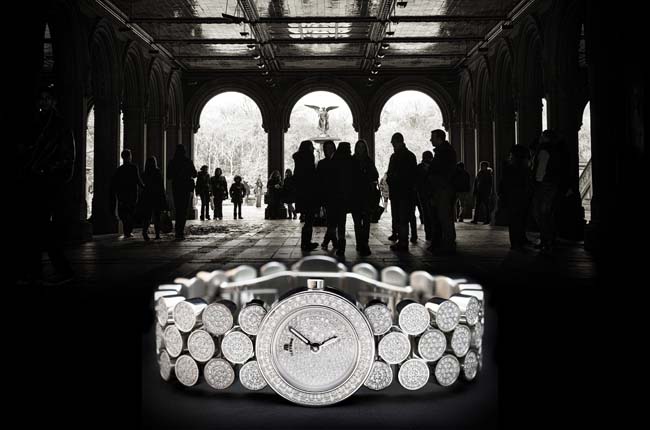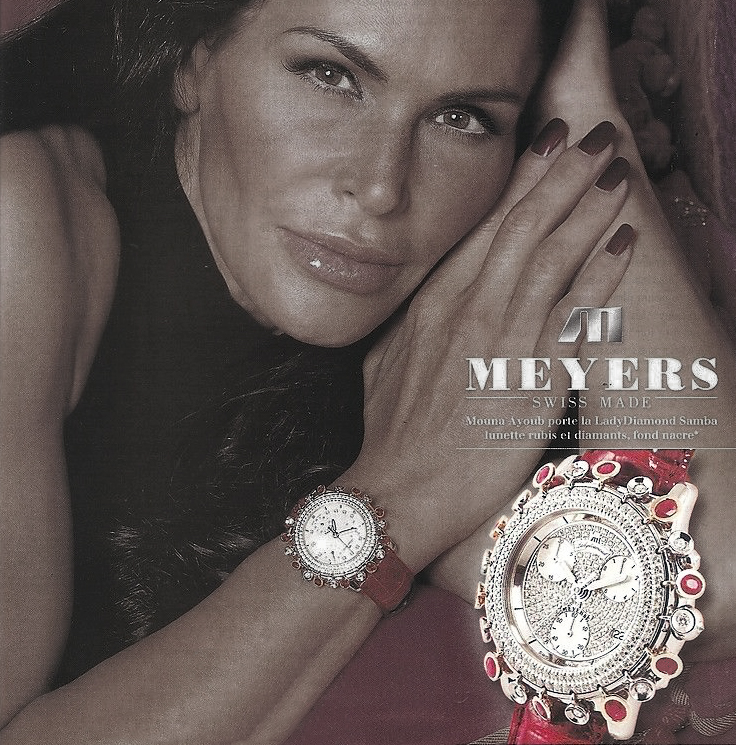 Between a jewel and a watch.
A  piece of jewelry exhibits the beauty and elegance of the person who wears it.  With this in mind, Meyers gave birth in 2001 to a revolutionary watch, with interchangeable bezels.  A single timepiece that can change its appearance to suit the moment !  The Lady Diamond, a multi-faceted and functional piece of jewelry, was born.
The Samba, that was launched in 2002, meant a first breakthrough into International markets, featuring elegant watches in a halo of pompons, set with the finest diamonds, sapphires and Rubies.
Shortly thereafter, it was followed by the Mouna, a very exclusive piece of jewellery, adorned with exquisite multi-coloured briolettes.  It was created in collaboration with Mouna Ayoub, and was promptly adopted in high society.
Then came the exquisite Milady's in 2006, with the bracelet set in a dazzling multitude of diamonds and sapphires, ready to conquer the hearts of every lady.
In 2008 Meyers' exclusive gallery of haute-couture jewellery watches, was joined by yet another innovative creation, the famous Tattoo, with its dainty swirls delightfully paved in diamonds.
Meyers was the first watch manufacturer to introduce interchangeable bezels in diamond watches and the first to get the concept patented. This technology of bezel interchangeability has been perfected to allow the user to switch the bezels and strap in a matter of seconds, giving the user a chance to give a whole new look to the watch.
Limited Editions
All Meyers collections are manufactured in Limited Editions !
This exclusiveness of our timepieces has made of Meyers a favourite collector's item.  Every watch lover, connoisseur or watch collector, knows that by owning a Meyers watch, you adhere to a very exclusive club of people appreciating quality and finesse, eager to stand out from the crowd.
Timeless creations
The world moves at such a pace, that only the adaptive creations succeed to captivate people in constant motion.  In an ever evolving market,  Meyers successfully combines contemporary creation with a rich inheritance of Swiss know-how, inventing and reinventing timeless style and distinction.  All Meyers' watches feature perfect lines, using fine precious metals for lovers of luxury and good taste.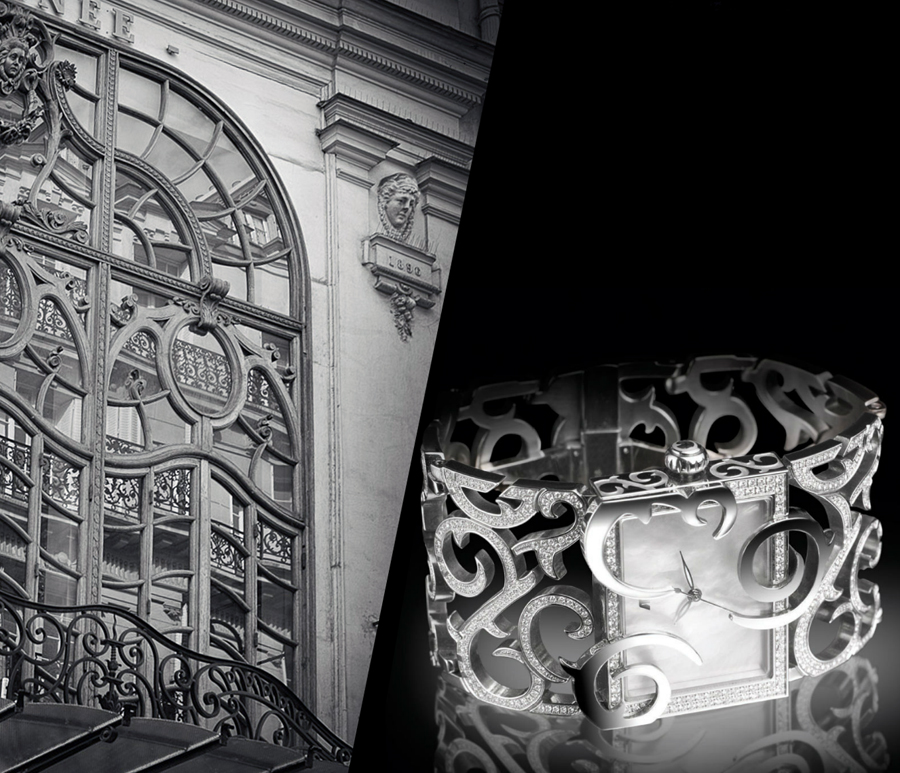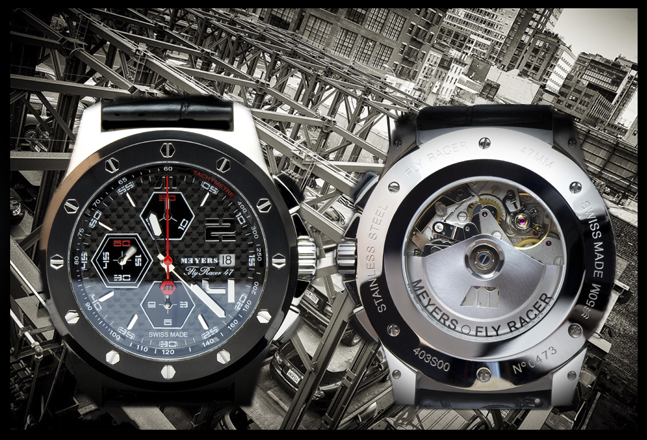 Fly Racer Collections 
To suit contemporary men, who value prestige and finesse, Meyers designed exclusive watches that meet their desire for sophistication and elegance.  Fly Racer watches are robust and reliable, superb and classy.
The Fly Racer 47 Automatic, is equipped with the Valjoux 7750 chronograph movement, offering the best of Swiss manufacturing, in a sporty watch, combining elegance and virility with uncompromising precision.
Ladies Collections 
Halfway between the jewel and the instrument, Meyers watches combine form and matter in an unusual way, giving time another dimension.  Each watch in the Lady Beach assortment is designed to caress a lady's intimate desires, to make her feel confident, dazzling and fabulous. Delicate and seemingly in balance on a lady's wrists, these jewelry watches play on multiple levels to attract the expert's eye on its pure quality.
No wonder that Meyers watches are acclaimed and worn proudly by famous stars !